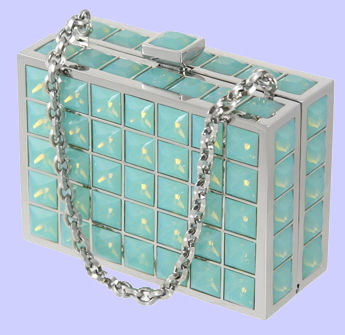 Whether you're headed to a black tie Bar Mitzvah or dinner and cocktails with your "mishpokhe," having the "perfekt" (perfect) handbag can make all "der untersheyd" (the difference)
Handbag or purse? They're both used. Pocketbook? Only "elter" (senior) citizens use this term
"A shain ponim kost gelt" (a pretty face costs money); and a pretty "tash" (purse) does, too
The Judith Leiber handbag has evolved into an American icon of "mode" (fashion) and design. Shown below is a Yiddish Guide to Judith Leiber:
"antik" (antique)
The Leiber's own one of the most distinctive private collections of "zeltn" (rare) antique Chinese porcelains
"barimtkayt" (celebrity)
The list of celebrities who own and show off their Leiber handbags could fill a volume of Who's Who. Beverly Sills owned nearly 200 Judith Leiber bags, and Bernice Norman, an arts patron in New Orleans, owns close to"dray hundert" (300)
"blaybn lebn" (to survive)
Judith Leiber is a Holocaust survivor. She struggled to survive under the daily threat of extermination during World War II. Her name had once been on a Nazi list of Jews to be exterminated
"boyen" (to construct)
When Judith Leiber was interviewed by Maria Denardo ("Leiber-action"), she was asked, "How long did it take you to construct one bag?" She replied, "The simplest bag takes at least a couple days; more detailed styles can take up to a week."
"briln" (eyeglasses)
Leiber offers designer eyeglasses
"bukh" (book)
"No Mere Bagatelles," is a biography of Holocaust survivor and handbag design genius, Judith Leiber, and modernist artist, Gerson Leiber. It was written by Jeffrey Sussman
"ershter" (first)
"dame" (lady)
Most of the first ladies after Mrs. Kennedy have worn her bags, with the exception of Rosalynn Carter, wife of Jimmy Carter. She was offered a bag, but didn't want it
"fabrik" (factory)
Leiber's first factory had four employees
whom she worked alongside, teaching them
her expertise
"There was such a sense of camaraderie, with all of us working together, producing these handbags," said Leiber. "I make my first line in a gray/green calf which was not that well received. Nevertheless, I was determined to make my bags as beautiful and as well as I could and not to compromise. I have never swerved from that goal. Never."
"gast" (guest)
In 1953, guests and reporters turned out to see the Judith Leiber bag carried by Mamie Eisenhower at her husband's inauguration
Note: The headlines read, "Michelle Obama snubs Judith Leiber bags, a favourite of First Ladies since Mamie Eisenhower." MIchelle Obama did NOT carry a Leiber bag to her husband's inaugural function. "Azoy geyt es." (That's how it goes.)
"gesheft" (business)
Judith Leiber said, "Hitler put me in the handbag business." Her well-to-do parents ("tate-mame"), Emil and Helen Peto, originally planned that she make a fortune in skin ("hoyt") creams. Instead, she enrolled in the Hungarian Handbag Guild
"hant" (hand)
Leiber, "Zi hot goldene hent." (She has golden hands.)
"I love to design beautiful objects that can be worn of course, whether it is made of alligator, ostrich, lizard or silk, or a great metal box, minaudiere that can be held in the lady's hand. Top quality is a great concern and it pleases me greatly to keep that paramount. Today's fashions really cry out for beautiful accessories, be they belt, handbags or great jewelry." (quote by Judith Leiber)
"heym" (home)
The Leiber's have now built a magnificent Palladian-style museum in East Hampton, which houses hundreds of Judith Leiber handbags as well as the paintings, etchings, lithographs and drawings of Gerson Leiber
"hunt" (dog)
Leiber designed a line of Chinese Food dog handbags that combines traditional Asian motifs and innovative use of color
"imigrant" (immigrant)
Leiber immigrated to the U. S. in 1948
"khinukh" (education)
Leiber studied in England from 1938-39, and apprenticed with Hungarian Handbag Guild. In 1939 she became a journeyman and first woman meister
"klug" (clever)
"A sense of whimsy is integral to Leiber's vision. Her pursuit of craft is matched with a stylish wit and the cultural cleverness that is akin to craft's creativity." (quote by Mary Peacock)
"man" (husband)
Leiber met her husband, Gerson Leiber, two days after he came to Budapest as an American G.I. Gerson was a radio operator in the Allied Control Commission, and he lived in an apartment below hers. They married in 1946.
"maven" (connoisseur)
Leiber was a designer in New York for Nettie Rosenstein (1948-60), the most esteemed fashion designer, the woman who created the little black dress. From 1960-61 she worked for Richard Kort, and from 1961-62, she worked for Morris Moskowitz Co. She launched her own firm in 1963, and opened a Madison Avenue boutique in 1996
"mazldik" (lucky)
Rod Stafford Hagwood, fashion columnist, wrote that "Often Judith Leiber peppers have thoughts with the phrase, "I've been very lucky…or very fortunate."
"musey" (museum)
In 2005, Gerson and Judith Leiber built a museum to house their works of art and to chronicle their careers. The museum is located at 446 Old Stone Highway in Springs, New York
"nomen" (name)
Judith Leiber was born Judith Peto in Budapest on Jan. 11, 1921
"shvester" (sister)
Leiber's older sister, Eva, and her mother survived the Nazi occupation of Budapest by staying in a building designed for Jews and then in a house set aside for Swiss citizens. Her father, an Austro-Hungarian who managed the grain department of a bank, obtained a pass for himself and forged the words "and family," using the same typewriter used to issue the pass
"tsuriktsien zikh" (to retire)
Leiber retired in 1998 and sold her business to Time Products, Inc. It was resold to Pegasus Apparel Group in 2000. Pegasus Apparel Group became The Leiber Group in 2001
"zamlung" (collection)
Permanent displays of the work of Leiber can be found in the Metropolitan Museum of Art (NY), the Smithsonian Institution (Washington, D.C.), The Corcoran Gallery, and the Victoria and Albert Museum (London)
"zhurnal" (magazine)
Leiber's handbags are featured in Vogue and Harper's Bazaar, as well as other top-flight fashion magazines.
—————————————————————-
Marjorie Wolfe's Hanukkah 2011 wish list
is for a Judith Leiber "Princess Box" ($1,200), but she's afraid that she will have to settle for a Kathy Van Zeeland handbag.